Review: Rocketlawyer.com
Rocketlawyer.com — We may be stretching the definition just a little of "free" in this case. It doesn't have to cost you any money to get a free lease agreement from Rocketlawyer.com, but there are strings attached. You have to sign up for a 7-day trial and provide a credit card, after which they charge you $29.95 a month if you don't cancel. So, after you provide a credit card, run the document tool and download the file, then you have to cancel, and they don't make it easy. However, you will find that the free lease (and we tried it, it is "free" as long as you cancel in time) is nice.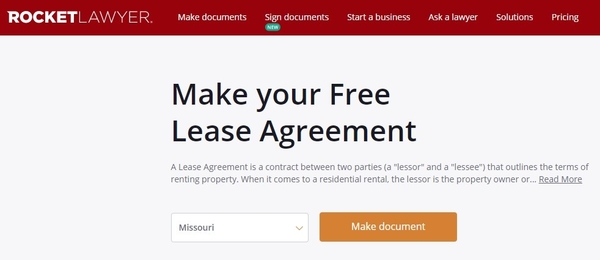 You will be taken through a very detailed wizard asking every question imaginable about what you want in your lease and what you want it to say. The wizard even allows you to add a comprehensive damage list section, one of the few free lease agreement forms we've seen to have this. This lease agreement is one of the most comprehensive documents we've seen and the most URLTA-compliant.
For example, it includes the deposit banking account information section required in many locations, yet something we've also not seen in any other free agreements online. I've looked at lots (lots!) of free lease forms over the years, and this one is among the best.
What RocketLawyer Can Improve
However, it isn't perfect. For such a well-done document, it's a little surprising that it is missing the "time is of the essence" and "joint and several" clauses. These are among the most fundamental clauses in a lease contract. It also fails to cover "abandonment" and "acknowledgment of receiving a copy." The wording is a little weak in the "choice of law," "entire agreement," and "failure to deliver possession" clauses (but at least it has them).
That's it, though, for complaints on the document itself. You'll want to find the "time is of the essence" and "joint and several" wording (both of which are simple and readily available) and add them, and the "abandonment and copy" wording if you wish as well as possibly tweak the slacking sections, but RocketLawyer gets most of it right. After trying out the free one, RocketLawyer hopes you'll stay and become a paying customer. I have to say, if you are working on numerous legal forms and issues you want to handle yourself, Rocketlawyer may very well be worth the money.
Free Trial Gimmick
Getting out of the 7-day trial is a trial in itself; it's not uncommon in these "free trial" or "can cancel anytime" deals, but that doesn't make it right.
You will not find it easy here; there is an FAQ section that gives instructions for canceling the trial membership, but of course, the directions are tricky. There is a settings button (gear symbol) at the top of the page when you are logged in. When you press that, there is a "manage my account" selection. If you go there, the page is about upgrading your membership. You have to look for a paragraph at the very bottom of the long page that talks about canceling your trial; it mainly tries to talk you out of it. In this paragraph, they call canceling "downgrading" (downgrading to "free"). There is no button to "downgrade." If you look closely, one of the words "downgrade" is hypertexted. Click on it, and that will finally take you through the downgrade process. Of course, they expect most people not to find this and give up, either getting charged or calling/chatting with them where the agent will try to talk them into staying. So, yes, it's free, but you may lose a bit of time canceling your trial membership.
Here is a link:
Or check our article about the best lease agreement service we found: Best Rental Agreement Site.